Couple arrested in Jersey child abuse inquiry will not face charges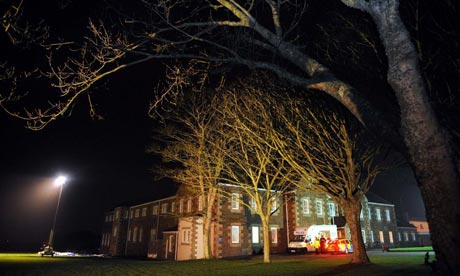 The Haut de la Garenne former children's home in Jersey. Photograph: Toby Melville/Reuters
Attorney general rules out prosecution saying there was 'significant conflict of evidence'
A couple arrested by Jersey police as part of an inquiry into decades of alleged child abuse on the island will not face charges because of a lack of evidence,
Jersey's attorney general has said.
The 70-year-old man and 69-year-old woman were questioned in June over claims that they attacked foster children in their care in the 1960s and 1970s.
After examining the police files, William Bailhache QC, Jersey's attorney general, said: "The evidential test has not been passed, and it would be simply wrong to bring the prosecution."
Police received complaints from three people claiming they had been the victims of physical abuse at the hands of the couple between 1967 and 1977. But the attorney general has ruled out a prosecution, saying there was "significant conflict of evidence", with some alleged victims denying they had been abused and praising the care they received.
The arrest of the couple was part of a wider investigation into child abuse at a number of care facilities on Jersey. Around 100 people have made allegations dating from the 1960s of systematic physical and sexual abuse including rape, beatings and drugging. The remains of up to five children have been found at a former care home, Haut de la Garenne. Forensic work is still being done on the remains, thought to be of children aged between four and 11. Searches have recovered more than 100 human bone fragments and 65 milk teeth.
There are claims that the island's authorities have hindered the police investigation. Its former head, Lenny Harper, has said "political hostility" to the wider inquiry caused delays in gathering evidence.
The attorney general strongly denied this. "It's not just deeply offensive to me and my team, although it is, but it also risks undermining confidence amongst the victims of child abuse that justice will be done," Bailhache said. "If the evidence is there, the prosecutions will be brought and pursued with a great deal of vigour. But I find the allegation of obstructing justice very unhelpful."
Police have passed three case files to prosecutors, and three people have been charged. Gordon Wateridge, 76, originally from Croydon, south London, is charged with three offences of indecent assault on girls under 16 between 1969 and 1979 while he was working at Haut de la Garenne. Michael Aubin, 45, is charged with several counts of indecent assault and with one count of a serious sexual offence on young boys between 1977 and 1980. Claude Donnelly, 68, of St Brelade is charged with raping and sexually assaulting a 12-year-old girl on Jersey between 1971 and 1974. Donnelly's charges are not connected with Haut de la Garenne.
About this articleClose Couple arrested in Jersey child abuse inquiry will not face charges
This article was first published on guardian.co.uk on Wednesday August 27 2008. It was last updated at 13:34 on August 27 2008.
Comments
On 30th Oct 2008 at 10:20 AM brian clare said...
Add a comment
Next entry: Babies are new target, Met warns as paedophile threat spirals
Previous entry: Launch of controversial child database delayed